Slovenian companies at NeoCon Chicago 10. – 12. June 2019, North Americas largest design exposition and conference for commercial interiors
May 8, 2019
Posted by:

Jurcek Zmauc

Category:

Activities, International, Products
Visit of a delegation consisting from 8 furniture producers from Slovenia, Europe in Chicago, June 10 – 12, 2019. Their high quality products are innovative and they try to be environmental friendly as well. Their products can be used for furnishing offices, schools, hotels, hospitals and other premises. Custom made, High reliability. They look for contacts like architects, design / architectural bureaus, real estate managers, builders, agents, retailers.
Visit was organized from Slovenian Wood Industry Cluster, SABA member from 2017.

The companies are:
– DONAR (http://donar.si) Red Dot Award Winner, Green Product Award Winner . Production of ergonomic office chairs, upholstery, open space furniture with integrated technology. Offering the whole service to bring one product from idea to a prototype stage and then to realization/production.
– LINA FURNITURE (www.linafurniture.com). Interior Innovation Award . Designupholstered furniture and upholstered kids furniture for home and contract market. Linafurniture is an innovative furniture brand with its own production facilities and development. Lina furniture products are mostly upholstered products.
– MURALES (www.murales.si) Solid wood furniture -chairs and tables. Their strengths are high quality,modern design, stability of products andreliability by making business deals.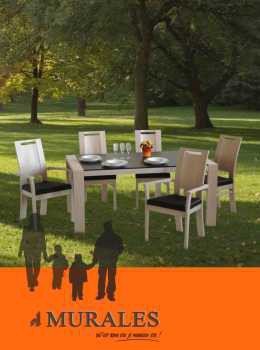 – CETA (www.ceta.si) Furniture and wood flooring by order. Offices, catering establishments, kitchens, rooms, other furnishings and business premises. They can source your designs, design to your requirements or propose our existing products for you to select from.
– L.ASK (http://www.lask.si) Solid wood chairs and tables as well as wooden accessories. Various timbers are used as well as water based lacquer in clear, stain and solid finish.
– JOINERY FLORJANCIC (http://florjancic.eu) Furniture (regal systems) for offices, home furnishings, hospitals and business premises. We provide consulting, planning, manufacturing and delivery of furniture.
– FLOOR EXPERTS (www.floor-experts.com) The best solutions for all floor coverings (except ceramic) for both -public and private buildings.
– NOKI ( http://noki.si/en/ ) Supply and installation of office furniture of higher quality and furniture pieces or parts.
In case you are interested to meet with them, please contact Mr Bernard Likar from Slovenian Wood Industry Cluster on e-mail: grozd@sloles.com.